"Commercial Interiors should always be flexible to suit the ever-changing needs of your business"
What Makes Us Best Commercial Interior Designers
Changing Spaces, Changing Lives
Interior designing is the art of changing or modifying the interior elements of a structure. But when considering commercial interior design, it is about the interior designs of commercial spaces like offices, restaurants, retail stores and many other public spaces. Most of the times, commercial interior designers plan and work along with architects to settle on the appearance of a space. It is the duty of the commercial interior designers to add furniture, finishings, fixtures, drapery, etc. to complement and complete the look as per the original design goals.

A thorough understanding of the nature of each business, brand and their customers/clients as well as the ones who drive these businesses is imperative for designing a perfect functional commercial interior space. Also, understanding and application of contemporary trends while keeping the place functional is equally important.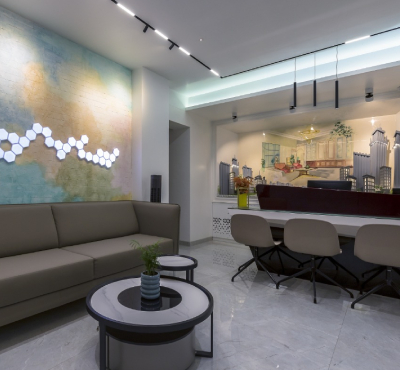 Personalization
Your space should be designed as per your style and choices and also be functional to your business requirements, not only at present but also in the future as per the changes that might occur and can be foreseen at the time of designing.
Choice of Materials and Finishes
Structure and materials used, especially that of finishes, as far as possible, has to be classic and timeless so that your interior design doesn't go out of style sooner.
Budget-Friendly
It is possible to achieve the desired look for your space even for a limited budget. Our designers will suggest the best materials and finishes within your budget considerations.
Hassle-Free Execution
We make sure our processes for material selection and design approvals are also personalized to your time schedule and availability as far as possible.
On-time Completion
It is of paramount importance that your commercial space is designed and executed with perfect craftsmanship and on time so that it doesn't put an additional burden on our clients.
Quality Assurance Warranties
We only use optimum and highest quality materials and provide post-completion services. For external and branded fixtures, standard company warranties are included.
Commercial spaces that we design

Retail Interiors
Shop and Showroom Interiors, Departmental Store Interiors, ​Quick Service Outlet Interior such as a Fast Food Joint, Service Station Interiors, etc.

Office Interiors
Office interior design for any business.

Hospitality & Recreation Interiors
Hotel Interiors, ​Resort Interiors, Cafe Interiors, Restaurant Interiors, Health Club Interiors, Gym Interiors, Spa Interiors.

Institutional Interiors
Government Office Int Institutionaleriors, Finacial Institution Interiors such as Bank Interiors, Schools and University Interiors, etc.​

Healthcare Interiors
Interior Design Services for Hospitals, Assisted Living Facilities, Medical Offices, Clinics, Laboratories, and Pharmacies, etc.